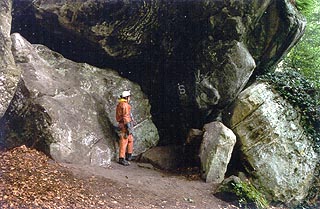 Interest: *****
Difficulty: *****
Names: Keltenhiel (L), Grotte des Celtes (F), Räuberhöhle (D).
Geology: Sandstone.
Location and access: Located after the village Müllerthal in the forest called "Schnellert". Follow up the trail starting at the parking area to join the track called "Fred Welter". Stairs at the right side of the track lead to the entrance of the cave.
Description: Slided blocs. Some heavy rubble at the last third of the chamber. A narrow passage has to be overcome to do a pass through the whole cave.
Exploration time: 15-20 minutes.
Equipment needed: Helmet and lamp.
Notice: Cave visited by lots of tourists.