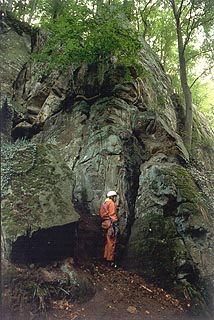 Interest: *****
Difficulty: *****
Names: Nenghis Hiel (L), Kleng Barbe (L), Grotte de la Salamandre (F).
Geology: Sandstone.
Location and access: Located after the village Müllerthal in the forest called "Schnellert". Follow up the trail starting at the parking area to join the track called "Fred Welter". Located 150m nord of the cave called "Keltenhiel" and 10m east of the trail just before a huge isolated rock slightly inclined to the trail.
Description: Slided blocs openning a huge fissure cave parallel to the outside rocks.
Exploration time: 1-2 hours.
Equipment needed: Helmet with lamp and 10m rope.
Notice: Nice and easy cave, especially for beginners. Some limestone formations and calcite crystals at the right wall.