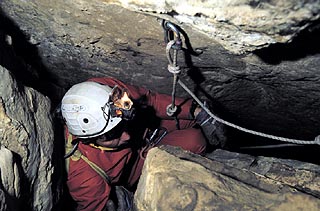 Interest: *****
Difficulty: *****
Names: Grotte Ste Barbe (F).
Geology: Sandstone.
Location and access: Located after the village Müllerthal in the forest called "Schnellert". Follow up the trail starting at the parking area to join the track called "Fred Welter". Located 30m east of the cave called "Keltenhiel".
Description: Very impressive cave with some very high chambers. Nice limestone formations in the part called "Pays des merveilles".
Exploration time: 4-6 hours.
Equipment needed: Full caving equipment needed.
Ropes: (MC5, P7) - C15, (P12 + P4) - C20, P7 - C10, MC15, P17 - C20, P8 - R20, P8 - R20, P15 - R26.
Notice: First entrance is collapsed, access only via arkward second entrance. Cave under the protection of the "Minstère des Eaux et Forêts". Visiting is not allowed from October 15th to April 15th to protect hibernating bat populations.